Quiltville Custom Quilting
http://www.quiltville.com
---


Long-Term Projects:


My Hexagon Medallion Quilt


in English Paper Piecing.




I love take-along projects! I love being able to make a good use out of otherwise wasted time. Time spent sitting in doctor's and dentist's offices, kids practices and ball games, long car trips, waiting in airports and sitting on planes can all be put to good use! I keep an on-going project in a tote bag always ready to grab when I head out the door for anything that might have even 10 minutes of waiting time.

I have been working on this current project for more than two years now, and it is coming along slowly, but it is coming along none the less! I have previously made a traditional grandmother's flower garden quilt, pieced in the regular way without foundation papers, but I wanted this one to be different.
I was inspired by an antique hexagon quilt in a medallion style, and being the scrap quilter that I am, decided to stick with a color scheme, but use lots of fabrics within the color scheme to achieve the look of unity that I wanted without boring me to tears by using only 3 fabrics. Why use only 3 when you can use hundreds?? *grin*
I started with hexagon graph paper and colored pencils and just began filling in with colors where I thought they would look good. I began in the middle with a traditional flower motif, and expanded it into a star..and from there farther on out repeating the star points with other motifs in them, the flowers, the diamonds, and etc.
Here is a pic of the center. It measures 32" across.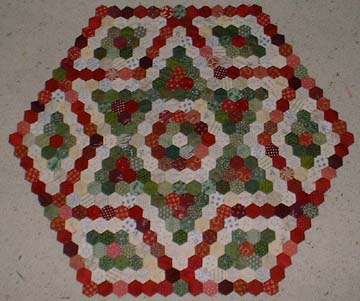 This page has moved! Please visit it at
http://quiltville.blogspot.com/2005/06/that-hexagon-medallion-journey.html