Diane & Judy's WILD DJ Quilt!
Talk about an eye-popper! Diane & Judy are using brights for their Dear Jane Quilt!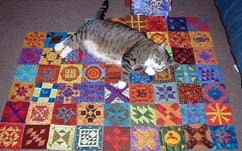 Charlie Cat thinks this quilt top is the perfect place for a nap!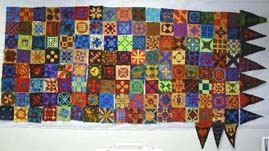 Here is the partial quilt up on the design wall with some of the triangles.....
Diane writes:
To answer the questions everyone is sure to ask:
Yes, it IS an unusual group of colors! We love it. Both of us like our colors rich and full strength. This quilt, for which we have accumulated an alarming amount of fabric, is all based around one very wild Alexander Henry print. I loved it, Judy hated it, but we both loved the rich colors in it. Lots of turquoise, green, gold, orange, purple and red, plus dark brown and deep wine accents. We decided that anything based on the colors we saw in the original fabric were fair game, so it includes everything from deep chocolate brown to electric blue and a few lime greens. We both chose the colors block by block, but we've tried to repeat each fabric at least once so it doesn't stand out too much.
We took some liberties with Jane's blocks, and colored some of them with more than 2 fabrics, or reversed the lights/darks. We still aren't sure how we'll set it together. Judy and I split up the blocks between us, mostly by technique. I took all the appliqué and curved seam blocks, Judy did most of the paper pieced ones, and the most challenging hand pieced blocks. It's sort of according to who is better at which techniques! I completed all 75 of my blocks, and Judy has about 6 or 7 of her 94 left to do.
I'm doing the triangles, and I have 9 of them done to date. Everyone wants to know who will get the finished quilt. We both agreed to set it together, but I'm going to be the one who quilts it, since finishing quilts is not Judy's strong suit (vbg - that sounded tactful, didn't it?) Anyway, once it's finished (probably in about 2020 <g>) we will probably show it around a little, then share the custody of it.
We currently have 5 DJ classes in progress (as a monthly class) at three NY quilt stores, The City Quilter in Chelsea, Sew Brooklyn! and Calico Square in Sea Cliff, Long Island. All of our students are wonderful, and their quilts are already going way beyond ours in technique and imagination! (And enthusiasm! They're all catching the DJ bug with a frenzy.)
Enjoy --
PhabDianeJane and JudyDJane in NYC
PhabPhanNYC@aol.com