Hi! My name is Bonnie K Hunter, and I am a Quiltaholic! Not a day goes by that I am not dreaming, plotting, planning, cutting, stitching ((and un-stitching!)) on SOMETHING Quilt-Related!

I am honored and blessed to share my love of scrappy quilts through traveling this wonderful world of ours --visiting quilt guilds and shops and giving lectures & workshops, wherever they may be.
Visit my Calendar and you just might find me appearing somewhere near! I'd love to meet you!


---

Come to Ireland with me!!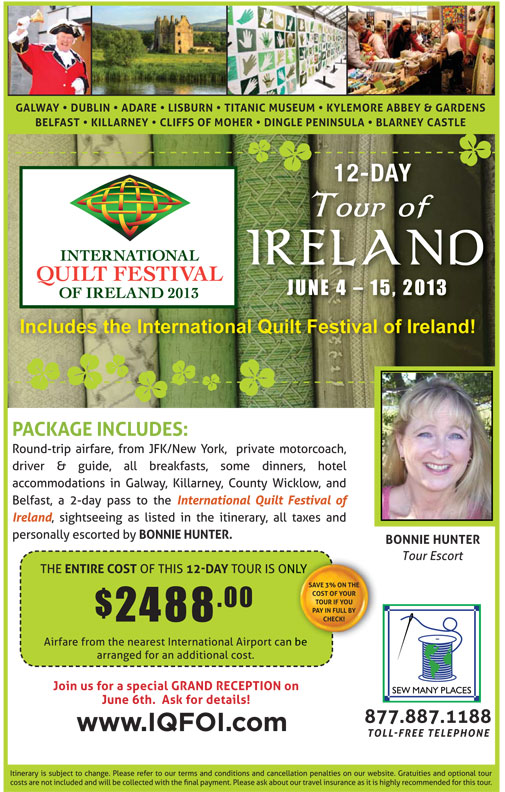 June 4-15, 2013!

Includes round-trip airfare from JFK, New York!
We are going to have the best experiences, and the trip of a life time!
For more information click HERE!
or call Sew Many Places directly at (877)877-1188
---


January 2013:

I'm carrying Victoria Findlay Wolfe's 15 Minutes of Play in my Quiltville Store! Whoowhoooo!
Do you remember my review of the book during the blog hop? Click HERE!

This means that those of you who have been waiting to order a seam guide but already have all the books in my store, now have an opportunity to get both Victoria's book AND pick up this little gadget!


Don't need a book but want guides? I'm doing something new! You can order a 6 pack of seam guides with no book purchase required! (Singles may only be sold with a book order) This way you can have one for you and each of your friends! The cost is $24 postage paid within the USA -- international shipping will need to be figured if you are outside the US and you will be invoiced separately for the shipping amount.
As always, any purchase of 3 books or more ships free within the USA!
---
Dec, 2012:
New! Geese on a String Tutorial!

Inspired by this wonderful string pieced and folky quilt that I bought in an antique mall ---I've uploaded a little tutorial for making the string pieced flying geese!
Click
here
for Geese on a String!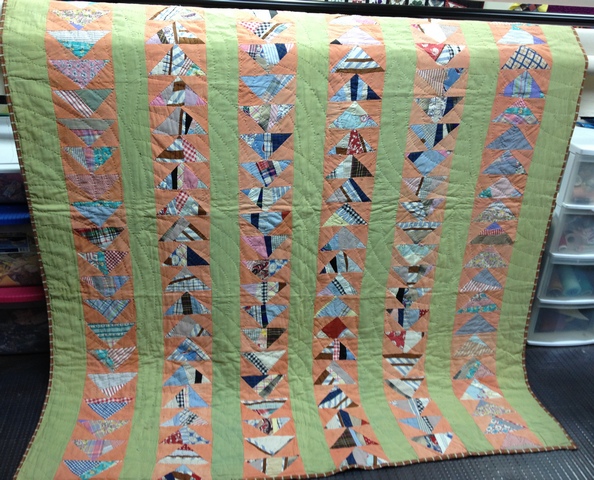 Full antique quilt!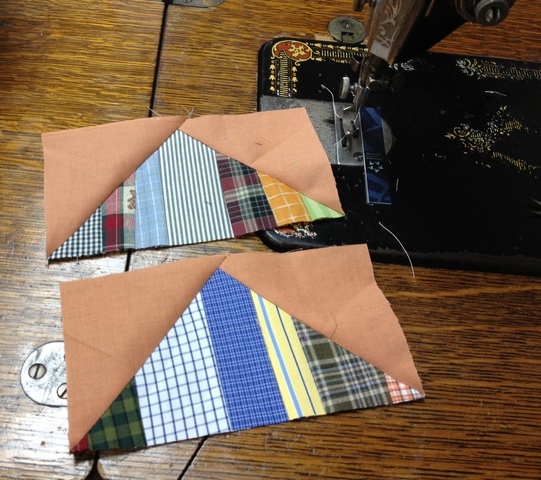 Make your own flock!
---
August 12, 2012:

New!! I've installed a Live QuiltCam in my studio! Occasionally I will turn it on when sewing at the machine so you can sew along with me! Check it out
HERE!
---
May 31, 2012:
Ready for Order!!

It's HERE and we are ready for ordering!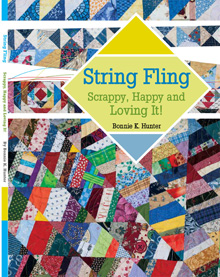 Click
HERE
to view all the quilts found in the book!
Click
HERE
to place your order on-line with a credit card through our secure server!
To order via snail mail with a check as payment, print your order form
HERE.
Also available:


Quilt it Scrappy!!

**Note** It is a good idea to check my
CALENDAR
when ordering. If I am out of town teaching when you place your order, it will be filled upon my return home as quickly as is humanly possible! :c)
---
April, 2012: De-boning A Shirt ---The Movie!
A little YouTube video of me taking a shirt down to its buttons --- taken at a recent visit with the Mississippi Valley Quilters in Moline, IL!
---
Oct 12, 2010:
Label That Quilt!!
It has come to my attention that there is a bit of a buzz and confusion in the quilt world thanks to a particular magazine article in McCall's Quilting. The article is requiring quilters to get direct permission from each and every designer allowing them to display quilts made from our designs in your local quilt shows. This has greatly increased both my email and my snail mail and the time it takes to reply is daunting!! It is taking away so much quilting time!
I WANT you to show the quilts made from my designs in your local shows! I love it when you send me pictures! Please consider this public announcement BLANKET PERMISSION for you to do so. You don't need to write me or send me forms in the snail mail to have to sign and mail back to you. (And ones that require me to use my own stamps to mail back to you? FORGET IT! At least some have included self addressed stamped envelopes.. ;c) ) All I ask is that you list me as the designer on the label, and include the ORIGINAL NAME OF THE QUILT if you happen to change the quilt to some other name that suits your own story. Something like this works great:
Carol made her quilt while following along with last years "Carolina Christmas" mystery. She did hers in blue and green and gold, and renamed hers "Happy Scrappy Stars", but included BOTH quilt names on her label.
This is really important when it comes to tracking back a quilt to its origin. Designers are losing their connections to their own designs as patterns go out there and are constantly renamed by everyone who makes the quilt. So including the designer AND the original name of the pattern keeps all that important information intact, and gives credit to the designer. You will also notice that Carol gave proper mention of her machine quilter as well! Quilted by Kristy! This is IMPORTANT!
The only thing I would add if I were Carol, would be her own signature somewhere on there, in pigma pen. Future generations are going to be missing out on our personal handwriting, and personal handwriting is very valuable on antique quilts. It gives a connection to a REAL PERSON, not just a computer-generated-die-cut-printed-thing made by a machine. Don't forget to SIGN your labels! Happy Quilting, Happy Showing!

*Note* You may print the patterns from this website for your own use! Feel free to share them with your friends. I encourage you to use the patterns to teach a class, make quilts to sell, to donate to charity and exhibit in your guild quilt shows! However, just because the patterns here are free for your use, does not mean you can use them with the intent to sell the patterns themselves. Please respect copyright policy and keep the pieceful spirit of quilting alive and well!