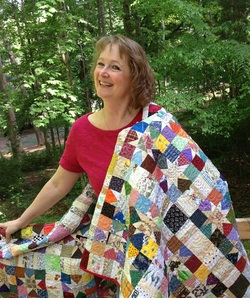 Hi! My name is Bonnie K Hunter, and I am a Quiltaholic! Not a day goes by that I am not dreaming, plotting, planning, cutting, stitching ((and un-stitching!)) on SOMETHING Quilt-Related!

I am honored and blessed to share my love of scrappy quilts through traveling this wonderful world of ours --visiting quilt guilds and shops and giving lectures & workshops, wherever they may be.
Visit my Calendar and you just might find me appearing somewhere near! I'd love to meet you!
Take some time exploring the website. You'll find lots of tips & techniques, and many free scrap patterns to help you put that precious stash to good use! If you like what you find in the free-stuff, check out my Books!
I enjoy writing a regular column for Quiltmaker Magazine called "Addicted To Scraps", helping and hopefully inspiring you to put your own Scrap User's System to work to create more quilts in less time!
I'm busy in blogland and on facebook--I just love being connected to Quilters! Visit my Blog to keep up with my doings! We've got free tips, techniques and patterns running over there too! Not to mention recipes and other good stuff.
NEW! Quiltvillle's Open Studio for Facebook! a place to Sew, Share & Grow! Feel free to share photos of whatever project you are working on! Ask questions, leave answers for others -- treat this group as our Online guild! Please SHARE and INVITE all your quilting friends to join us!
Quiltville's Quilt Cam! I've installed a Live Quilt-Cam in my studio! Occasionally I will turn it on when sewing at the machine so you can sew along with me! Check it out HERE! You will find the archives listed for your viewing pleasure!
---
Hey everyone!
This notice is especially for those who are not on Facebook or don't read my blog regularly.
Registration is open for my series of 6 online workshops in my Scrap Quilting course with CraftU!
The course runs from Oct 12-Nov 23, 2015 with six sessions based on blocks from my Addicted to Scraps column with Quiltmaker Magazine.
Visit the the blog
HERE
to catch the details and save $30.00 when you use the coupon
BSCRAP30
!
Let's get Scrappy!
---
---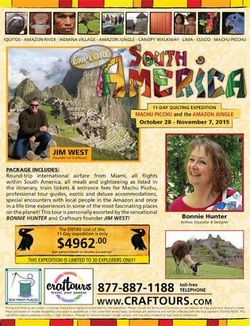 October 31-Nov 10, 2015!
Join me for a trip to Peru with Sew Many Places and Craftours in 2015!
In October of 2015 I am traveling with Jim West and
Craftours.com
on an amazing adventure you won't want to miss!
I have also added a Peru 2015 tab to the top of the blog so you can come back to this info. Feel free to send the link to your friends who may want to travel with you!
PACKAGE INCLUDES:
Round trip international airfare and all airfare within South America, all meals and sightseeing as listed in the itinerary, Jim West as your personal escort, train tickets and entrance fees, professional tour guides, quilting workshops with Bonnie Hunter, and a commemorative tote bag of gifts!
Price does not include air departure taxes within South America, optional tours, gratuities, drinks, and extra costs of a personal nature.
Click
HERE
for more info!
---
---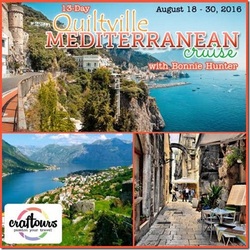 August 18-30, 2016!
Join me as we cruise the Mediterranean!
On THIS CRUISE we will be spending 13 days – 12 nights – getting to see all of those fabulous places that are STILL on my bucket lst!
We Start in Barcelona, Spain with ports of call in Koto, Montenegro, Spit, Croatia and the Amalfi Coast, Venice, Rome, Florence & Pisa Italy, and Provence, France!
And yes, because it is a CRUISE, there will be days at sea – with sewing machines and a project involved. It's the best of both worlds.
Click
HERE
for more info!
---
---
EXCITING NEWS! Our Newest Book Release: MORE Adventures with Leaders & Enders!

Click HERE to view all 12 quilts included in the book.

Click the SHOP tab at the top of the page to place your order Today!

Did you know that all orders of $75.00 or more ship FREE within the USA?!Click HERE to preview all of the quilts in all of my books!
---